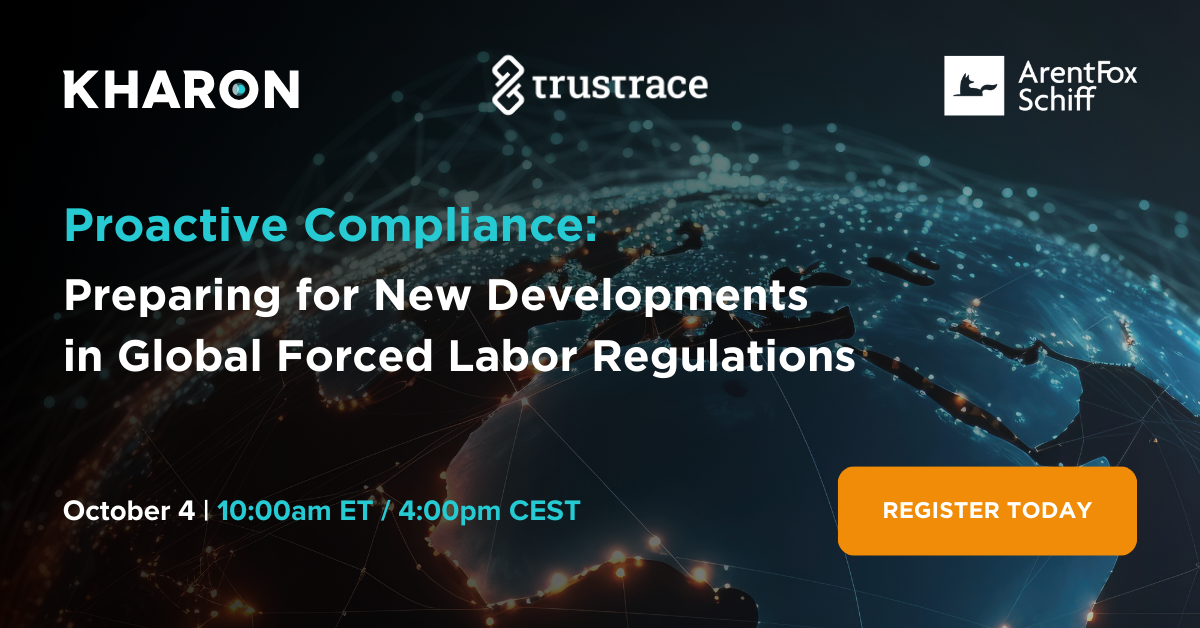 Join us for an informative webinar where experts from Kharon, TrusTrace, and ArentFox Schiff will provide insights on navigating the current and developing international guidance related to forced labor. As global forced labor regulations continue to evolve, companies face heightened due diligence expectations, so it's crucial for businesses to proactively prepare for changes in compliance expectations and scrutiny.
The session will provide an overview of new and developing global policies that will soon impact industry, including regulations from both Europe and North America. The webinar will delve into addressing practices that businesses can institute to comply with existing forced labor guidance, while also preparing for new regulations.
Our experts will offer practical guidance on compliance with forced labor regulations. They will detail the necessary data companies need to gather, explain the materials required to respond to a detention of goods, and demonstrate how technology can be leveraged to proactively prepare for forced labor risk.
---
Pauline S. God, Policy and Partnership Manager, TrusTrace
Pauline God is the Policy and Partnership Manager at TrusTrace. Pauline oversees the research and analysis of regulations and sustainable development in the textile industry. She is an active participant and partner in industry working groups including Policy Hub, SAC and Textile Exchange, to ensure that traceability and data technology grow together with brands and policy to help meet industry needs.
Pauline has 10 + years of experience as a sustainability leader in the apparel industry and holds an academic background in economics and environmental science.

Lucas Rock, Associate, ArentFox Schiff
Lucas' practice is focused on import compliance matters and international trade law. As a member of ArentFox Schiff's Forced Labor Task Force, Mr. Rock has experience helping companies conduct due diligence on their supply chains and preparing submissions to Customs for the release of merchandise detained in connection with forced labor Withhold Release Orders. Lucas also helps clients to stay up to date on new developments, such as the Uyghur Forced Labor Prevention Act, and government enforcement measures in the space.
Mr. Rock also has experience with the classification of merchandise under the Harmonized Tariff Schedule of the United States, country of origin determinations, Free Trade Agreements, bonded warehouses and foreign-trade zones, and valuation issues including first sale. Lucas advises clients on trade policy issues, such as the Section 301 tariffs on imports from China and the EU. He has assisted with compliance with federal and state regulations including the Fish and Wildlife Service's administration of programs relating to protected species and the Office of Foreign Assets Control sanction list.

Ethan Woolley, Account Executive, Kharon
Ethan is an Account Executive at Kharon, where he supports the firm's clients on UFLPA due diligence best practices. Ethan frequently works with organizations in the retail, apparel, automotive, chemical, and telecommunications industries. Ethan received his BA in International Relations and Russian from the University of Pennsylvania and an MA in Energy Politics from the European University at St. Petersburg. Ethan speaks Russian and spent time living in Moscow.