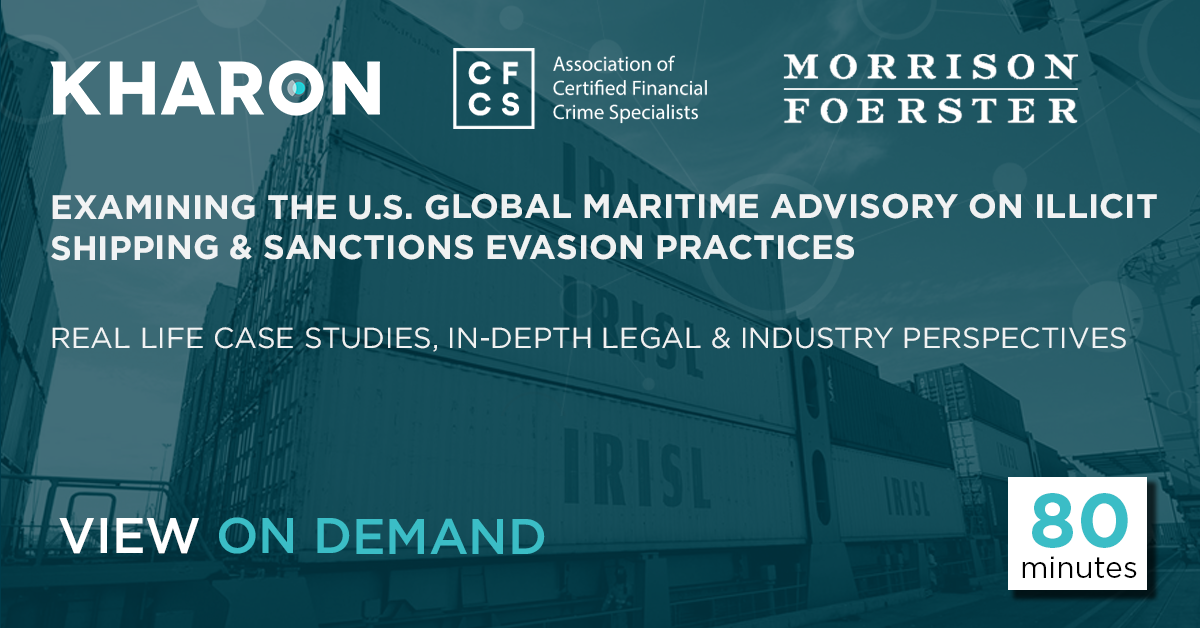 Join Kharon, Morrison & Foerster, and The Association of Certified Financial Crime Specialists (ACFCS) for a 80 minute session Examining the U.S. Global Maritime Advisory on Illicit Shipping and Sanctions Evasion Practices.
On May 14th the U.S. Department of the Treasury, U.S. State Department, and the U.S. Coast Guard issued an advisory providing guidance on illicit shipping and sanctions evasion practices for the global maritime industry, and energy and metals sectors, and related communities. Focusing on Iran, North Korea, and Syria, the advisory includes information on the deceptive practices used to evade sanctions, as well as policies and procedures for entities operating in the affected sectors to consider adopting as part of a risk-based sanctions compliance program.
The advisory laid out a number of practices that could help identify sanctions evasion, including:
Institutionalizing sanctions compliance and due diligence programs
Knowing your customer
Conducting supply chain due diligence
Establishing policies around location (AIS) transponders
Monitoring ships throughout the life cycle of a transaction
Sharing information across industries
During the 80 minute session, we use real life case studies to examine risk scenarios and discuss insights. Following each case study, leading legal advisors and risk managers share their perspectives on best practices for establishing controls and implementing mitigation.
---
SPEAKERS

Jonathan Babcock, Associate, Morrison & Foerster
Jonathan's practice involves assisting clients in a range of national security matters, including economic sanctions compliance, export controls compliance, and national security reviews before the Committee on Foreign Investment in the United States (CFIUS). Prior to joining Morrison & Foerster, Jonathan practiced in the International Trade and National Security practice groups of a major D.C. law firm.



Aki Bayz, Of Counsel, Morrison & Foerster
Aki Bayz has a multidisciplinary practice covering national security regulatory compliance and transactional matters. Mr. Bayz advises clients on compliance with the applicable trade sanctions and economic embargoes administered by the Treasury Department Office of Foreign Assets Control (OFAC), the export control and anti-boycott requirements of the Commerce Department Bureau of Industry and Security (BIS), and military items subject to the jurisdiction of the State Department Directorate of Defense Trade Controls (DDTC).





Jeff Nielsen, Senior Legal Counsel, Foreign Trade Controls, Maersk



Howard Mendelsohn, Chief Client Officer, Kharon
Howard works closely with business, compliance and legal professionals to strengthen programs and controls for managing financial crime risk. Howard has over two decades of experience in combatting illicit financial activity, in both the government and the private sector. Howard served at the US Treasury Department from 2001 to 2011, including as Deputy Assistant Secretary and Assistant Secretary (Acting) for Treasury's Office of Intelligence and Analysis. Howard led Treasury's intelligence functions, including oversight of analytical production, risk assessment, security, and strategic planning. Following his service at Treasury, Howard held leadership positions in Enterprise Compliance at PNC Financial Services Group. He is a recognized thought leader on Financial Crime matters and speaks regularly at conferences.

Thomas Mounty, Account Director, Kharon
Tom is based out of Kharon's London, UK office where he manages engagements across the insurance, maritime and legal sectors. Prior to joining Kharon, Tom managed a business development team at Deloitte and focused on developing new markets at Accuity/Fircosoft.

Nimet Patel, Director | Sanctions, Screening & ABC - Process & Control Oversight, Barclays




Kristofer Readling, Associate, Morrison & Foerster
Kristofer Readling is an associate in Morrison & Foerster's National Security practice group. Kristofer focuses his practice on sanctions and export control issues and investigations, having most recently served as an Enforcement Officer in the Enforcement Division of the U.S. Treasury Department's Office of Foreign Assets Control (OFAC).



Joshua Shrager, Senior Vice President, Kharon
Josh works with Kharon's key clients on strategic initiatives and partnership opportunities. Prior to Kharon, Josh was a director at data analytics firm Quid, where he managed east coast and Europe client relations operations as well as directed company wide client engagement strategy and implementation. Previously, Josh served in the US Department of the Treasury as the Deputy Financial Attaché to Saudi Arabia as well as co-lead of the Iraq Threat Finance Cell in Baghdad. He also was a US Department of State Foreign Service Officer, with postings in Mexico and The Gambia, where he oversaw the embassy's Public Affairs office.



John Smith, Partner, Morrison & Foerster
John E. Smith, former Director of the U.S. Treasury Department's Office of Foreign Assets Control (OFAC), is co-head of Morrison & Foerster's National Security practice, and a member of the Global Risk + Crisis Management group and Investigations + White Collar group. After serving 11 years as a top official at OFAC and three years as its Director, Mr. Smith brings to the firm unmatched experience in economic sanctions, enforcement, and national security.



Robert Walsh, Deputy Chief Compliance Officer, AXA
Robert Walsh is the Deputy Chief Compliance Officer and Global Financial Crime Officer for AXA Group. In addition, he chairs AXA's US Compliance Committee. Before AXA, Bob's experience included working at an international bank and at a securities regulator in Canada. His industry initiatives include chairing the Sanctions in Insurance Roundtable, which is comprised of major global insurers, reinsurers, brokers and the Lloyds market. The Sanctions Roundtable seeks to develop sanctions compliance best practices, and meets periodically with government authorities such as OFAC, the US State Department and the European External Action Service.

---
ABOUT THE HOSTS